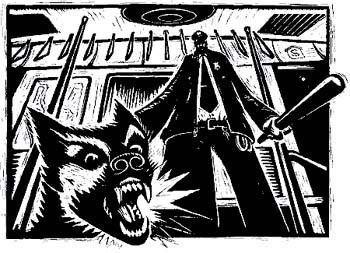 May 26, 2002
ALBUQUERQUE (AP) — Police dogs have taken a $725,000 bite out of city coffers from payouts to victims of K-9 attacks, and it could rise to $942,000 if defense lawyers get the amount they've billed.
Seven APD dog-bite lawsuits are pending in court, including two filed last week, and dozens of citizens who were neither armed nor violent have been bitten, but police say the practice is justified.
Civil rights lawyers disagree.
Moriah Smith, 16, a witness to a shooting incident, says she was crouching behind a row of bushes in a schoolyard when an 80-pound police dog attacked her without warning, biting into her calf and shaking it violently, permanently disfiguring it.
Smith is one of 107 people bitten by APD dogs since 1996, and is among people who have sued the city over those bites.
Officers have claimed in several cases that they allowed their dogs to continue biting suspects for the officers' own safety. In one case, the Albuquerque Journal reported Sunday, an unarmed suspect was ordered to walk toward an officer with a police dog still attached to her backside.
Sometimes, police dogs have even attacked sleeping people, generally transients, who were not accused of a crime, the newspaper reported.
According to APD policy, dogs can be deployed when a person flees, resists arrest or poses a threat, depending on the severity of the crime.
Police and their lawyers say the people who are bitten often are complicit in their refusal to obey lawful police orders.
''There becomes a point in time where these people have to take responsibility for their own conduct,'' said Albuquerque attorney Luis Robles, who defends APD officers in court. ''There were a number of times they could have complied with police and they didn't. There will be consequences, but they brought it upon themselves.''
On Feb. 26, 1999, police considered Smith a potential felon. After she was attacked, she was arrested for criminal trespass. Her lawyers allege the attack was excessive force. They want the force to curb their dogs, even muzzle them on some searches.
''There's no reason for dogs to bite people,'' said Brad Hall, an attorney representing Smith. ''When they unleash the dog they don't know if it's going to bite a victim, a suspect or a witness.''
Nick Bakas, the city's chief public safety officer, said in the cases he's aware of, ''I feel comfortable stating that the officers were within police policy and acted appropriately.''
Police have said Smith must have provoked the dog attack. And they using a dog in that situation defused dangerous circumstances in which officers might have had to use deadly force.
After Smith's attack, K-9 officer Andrew Lehocky said his supervisor, Sgt. Tom Garduno, told him: ''Good job.''
Police data show the use of police dogs has escalated since 1996. Dog deployments jumped from 292 in 1996 to 1,449 in 2000, then fell to 1,201 last year.
In 1996, police took someone into custody using a dog 18 times. That rose 97 in 2000. Last year, 71 apprehensions were reported.
A police captain who oversaw the K-9 unit said a year ago that APD was now more likely to muzzle dogs for searches. But deputy chief Ray Schultz testified in a recent deposition that muzzling hasn't happened and he knew of no plans to do so. Current police operating policy makes no mention of muzzling.
Bakas, who oversees police, fire and corrections for Mayor Martin Chavez, said last week said the department is reviewing K-9 policy.
''We're looking for accountability and documentation and justification whenever we use dogs, as we would in any use of force situation.''
A Journal review of APD documents shows many of the people bitten over the past six years have been young and were either hiding or fleeing from police.
''The majority of dog uses are for searches of buildings, and typically those people are unarmed,'' said Albuquerque attorney Joe Kennedy, who also represents Smith in her lawsuit.
Sometimes police dogs have apprehended violent people fleeing arrest, such as bank robber Byron Shane Chubbuck, who was armed when caught in 1999.
The International Chiefs of Police Association says dog bites have generated a ''near cottage industry'' for civil litigation.
A large part of the problem has stemmed from ''inappropriate deployment and-or lack of control of canines by their handlers,'' according to a report last year by the association.
In recent years, the U.S. Justice Department has scrutinized several police departments' dog units for possible civil rights violations.
Lehocky, by his own personal records, recorded 128 dog bites in his career, a city document shows.
Marlo Marquez, 19, who filed an excessive force lawsuit against the city last year, had been a passenger in a car being chased by police. The car crashed into a wall. She got out and started to run.
Bart bit her leg and buttock, after which Lehocky ordered her to walk over to him — with Bart still hanging on. She was charged with resisting and eluding police.
APD's policy requires officers to issue a warning: ''This is the APD, come out now or a dog will be used to locate you.''
But Garduno in a deposition has said officers have discretion not to issue a warning if police safety would be jeopardized.
In the Smith case, Lehocky's report states only: ''K-9 warnings were not issued due to offender(s) demonstrated their effort to flee/conceal from police, armed with a firearm, and having total disregard for human life.''