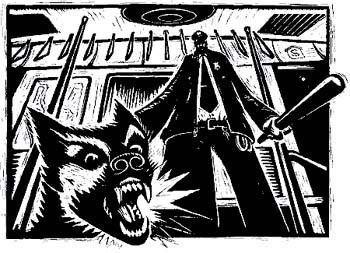 November 7, 2002
Albuquerque Journal
The city could end up paying more than $400,000 to resolve an excessive force lawsuit brought by a teenager who was bitten by an Albuquerque police dog.
A federal court jury late Tuesday awarded 19-year-old Moriah Smith $50,000 in damages against APD officer Andrew Lehocky after concluding he violated her civil rights when his police dog, Bart, attacked Smith.
That set up a second phase of the trial to determine the city's liability based on APD policies and supervision of police dogs. Smith's attorneys had subpoenaed Mayor Martin Chávez and Police Chief Gil Gallegos to testify.
Just as those proceedings were to begin Wednesday, lawyers for Smith and the city reached a deal and the jury was dismissed.
"We looked at the verdict (against the officer) and the city decided not to appeal it," said Kathryn Levy, an assistant city attorney. She wouldn't elaborate. The city, which was also named in the lawsuit, is responsible for paying the $50,000 against the officer and attorneys fees in the case.
Smith and her lawyers, Brad Hall and Joe Kennedy, called the verdict and resolution a victory.
"The plaintiff believed that police should warn people that they're going to use an attack dog and if they don't warn them they should use a leash or a muzzle because it's a serious level of force," said attorney Brad Hall. "We appreciate the jury figuring out the big picture."
Smith, then 16, was unarmed and hiding from police at a Northeast Heights schoolyard in 1999 when Lehocky unleashed the 80-pound Belgian Malinois to find her. The dog clamped down on Smith's right leg, causing injuries that resulted in three surgeries.
Police were investigating a report that Smith had been seen with a boy who had fired a gun at a group of youths at a nearby park.
According to testimony, no warning was given before the dog was unleashed. Smith later was charged with trespassing on school property.
Lehocky's lawyers argued that Smith was responsible for events that led to the bite. They said Lehocky acted reasonably in unleashing the dog to find a suspect who possibly was armed and dangerous.
Smith testified that she would have surrendered had she been warned. Because they prevailed on the civil rights claim, Smith's lawyers were entitled to reasonable attorney fees and costs. The agreement allows an arbitrator to determine the amount the city will pay Smith's lawyers.
Kennedy said the total price tag — including the $50,000 for Smith — could run as high as $450,000.
As part of the deal, APD Chief Gallegos and Schultz agreed to review APD policies on when and how police dogs are deployed, Hall said.
"We have confidence that they'll take us seriously," said Kennedy.
Smith said she will now have money to pay for plastic surgery on the deep scar the bite left.
"It wasn't (about getting) the money for me," said Smith, who now lives in Pennsylvania. "It was the moral of the whole situation. These dogs shouldn't be allowed to bite people."
As part of the agreement, an official judgment against Lehocky won't be entered in court records.
"In a future case (such a judgment) could have been used by another lawyer against Lehocky," said the officer's attorney Luis Robles.
Lehocky still faces three other dog bite lawsuits, Robles said.
Robles said his client was "very disappointed" by the jury verdict at the conclusion of the four-day trial.
"I see it as a compromise verdict," Robles said, noting that the jury gave Smith nothing for pain and suffering and awarded no punitive damages.
Robles said Smith's plastic surgeon testified that surgery to reduce the scar would cost about $50,000.
"I would have thought that if they thought Officer Lehocky did something he shouldn't have, they would have given her more than just the money to fix her scar," Robles said.
Jury verdicts in dog bite cases nationwide have tended to favor the police, experts say.
Earlier this year, Lehocky was exonerated in two lawsuits involving police dog bites. In 2000, the city settled a dog bite claim against him for $210,000.
That led to Lehocky, a 20-year-veteran, transferring from the dog unit to the SWAT team. A year earlier, he received an award from then-Police Chief Jerry Galvin for stellar work in the K-9 unit.
Kennedy and Hall on Wednesday had planned to introduce evidence of prior injuries caused by police dogs, how police review such cases, and APD police dogs' failure to guard and bark as trained.
City Attorney Bob White said the agreement didn't conflict with the mayor's policy against settling civil rights cases filed against APD.
He said Chávez never meant to imply the city would appeal all jury verdicts against the police. The no-settlement rule, he said, applies to pre-trial settlements. Chávez instituted the settlement ban in January, saying allegations of misconduct should be aired publicly and not behind closed doors by lawyers.