By Leslie Wood
Staff Writer, The Independent
http://www.gallupindependent.com/2005/july/072105pabuse.html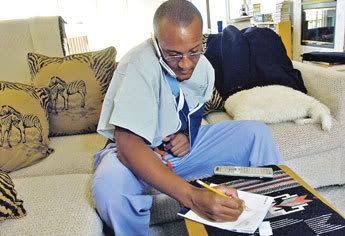 From the home in Gallup where he is staying, GIMC heart surgeon Vincent Moss talks on the phone Wednesday with attorneys about a potential lawsuit against the Albuquerque Police Department for excessive use of force. [Photo by John A. Bowersmith/Independent]
GALLUP — A 34-year-old Gallup Indian Medical Center heart surgeon reclined on a plush cream sofa on Wednesday night as he juggled telephone calls from zealous attorneys hoping to represent him in a potential lawsuit against the Albuquerque Police Department.
To be exact, nine attorneys, from across the nation, have contacted Maryland native Vincent Moss since news broke about an incident where police allegedly beat him up outside an Albuquerque tavern.
However, the officers and bar owner assert appropriate force was used and Moss came toward them in a threatening manner.
Moss was visiting Albuquerque for the weekend after hearing of the city's reputation.
"I was just walking the beautiful streets of Albuquerque," he said. Moss said he approached Maloney's tavern manager Dave Buehring to question why he had not been served, after he had been ignored by the bar's wait staff for nearly 30 minutes.
Albuquerque police officers reportedly watched as Buehring and Moss discussed his treatment outside the downtown establishment and only took action once Moss followed Buehring back into the bar to settle a tab.
The incident escalated when officers grabbed Moss by the shirt and eventually pushed him onto the ground causing his shoulder to dislocate. Meanwhile, Moss said he was trying to introduce himself as a Gallup physician.
In addition to a dislocated shoulder, Moss sustained multiple bruises on his upper arm and left eye. He was subsequently booked into the Albuquerque detention center and made a $75 bond about 12 hours later.
Due to his injuries, Moss said he is unable to conduct surgery without an assistant. He plans to investigate the incident to determine whether a lawsuit is warranted.
"I want to gather all the facts to decide whether I should pursue legal matters," Moss said. "... but I do know excessive force was used."
He's not certain if his neglect as a customer was race-related because the tavern was filled with more than 100 customers at the time, he said. But he did call witness statements that he came toward the officers in an aggressive stance "a complete lie."
"It's unfortunate it happened to me," he said. "But what is fortunate is that I'll do something about it. I'll do whatever it takes."
Moss is temporarily working at GIMC as a heart surgeon until he is deployed to Iraq in September.
"He has been able to do things they usually can't accommodate," Louise Frechette, said of the surgeon who is temporarily staying at her and her husband's home.
When he arrived in Gallup in late June at about 2 a.m., Moss said he was followed to his Linda Street residence by at least three Gallup police officers who were patrolling the area.
He said a female officer pulled him over and asked if he was lost. The officers then followed Moss until he arrived at the location.
"It's so vague that it's not worth filing a complaint," Moss said. "I can't say it was race-related, but you can never rule it out."
He said incidents such as this are a more common of an occurrence since his arrival to the southwest. Gallup Police Chief Sylvester Stanley said it is not the department's policy to pull over a vehicle without probable cause.
"It's not our procedure to follow people regardless of their color," Stanley said.
However, he invited Moss to meet with him if he had a complaint.
Moss said he has already discussed the Albuquerque incident with the Mayor Martin Chavez, the police department and the governor's office.
Buehring could not be reached for comment, as of press time.